PD Compact 100W Gan Charger , USB C Wall Charger Type C Laptop
Product Detail
Product Tags
Detail Information

Product Name:
100W USB C GAN Charger
Item No:
APS-5104
Material:
ABS&PC
Color:
White/Black/ OEM Color Service Is Accepted
Input:
AC100V-250V
USB A1 Output:
4.5V/5A, 5V/4.5A, 9V/3A, 12V/2.5A, 20V/1.5A 30W MAX
USB A2 Output:
4.5V/5A, 5V/4.5A, 9V/3A, 12V/2.5A, 20V/1.5A 30W MAX
USB C1 Output:
5V 3A , 9V 3A , 12V 3A , 15V 3A , 20V 5A 100W Max
USB C2 Output:
5V 3A , 9V 3A , 12V 3A , 15V 3A , 20V 5A 100W Max
Output Power:
100W
Output Interface:
2x USB A + 2xUSB C
Key Function1:
100W Pd Compact Charger
Key Function2:
Smallest Pd Wall Charger Usb C Power Adapter
Key Function3:
Pd 3.0 Wall GAN Charger
OEM&ODM:
Acceptable
High Light:

100W Gan Charger

,

100W USB C GAN Charger

,

100W USB C Wall Charger
Product Description
100w Usb C PD Compact Charger With Gan Smallest Pd Wall Charger Usb C Power Adapter PD 3.0 Wall Charger Type-C Laptop
Overview
100W Gan Charger USB C wall charger utilizes the industry-leading GaN Fast Power IC to miniaturize components and PCBA. The new Gallium Nitride semiconductor material allows for power devices that can operate at higher voltages and switching frequency which results in high efficiency and powerful chargers.Foldable US plug withUK, EU, AU pin converters will be provided in the package. Mopoint 100W supports worldwide universal 100-240V voltage and comes with UK/EU/AU pin converters. Feel free to connect anywhere in the world.
APS spent more than one year design the EE circuit and firmware to fully utilize the GaN Power IC to higher efficiency and better reliability of Mopoint 100W. In order to make the smallest 100W charger with high efficiency ever, we design the circuit board and components in the most compact PCBA layout. Only the industry's most efficient components that can deliver the best performance in the smallest of space are used. The dense circuit board is then surrounded by high-density thin heat sinks to aid in heat dissipation. We also use the AC-DC instead of DC-DC technology to make sure the high efficiency and low temperature.
Specifications
Specifications
Model No
APS-5104 US
Technology
Fast Charge,
Plug
US plug, UK plug, EU plug,IN plug,AUS plug
Input
AC100V-250V(Standard)

Contact us for more wider range.

Output
65W
USB A1 & A2:4.5V/5A, 5V/4.5A, 9V/3A, 12V/2.5A, 20V/1.5A 30W MAX

USB C1 & C2 :

5V 3A , 9V 3A , 12V 3A , 15V 3A , 20V 5A 100W Max
Efficiency(Full load)
>88%
Safety Protection
Over Voltage Protection

Over Current Protection

Short Circuit Protection

Over Hot Protection

Burn in
100%
MTBF
5000hours
Features
1.Max Power Output: 100W
· Ports:2x USB-C and 2 x USB-A
· USB-C1: 100W Max, PD:5V/3A, 9V/3A, 12V/3A, 15V/3A, 20/5A,
· USB-C2: 100W Max, PD:5V/3A, 9V/3A, 12V/3A, 15V/3A, 20/5A
· USB-A1:30W Max4.5V/5A, 5V/4.5A, 9V/3A, 12V/2.5A, 20V/1.5A
· USB-A2: 30W Max 4.5V/5A, 5V/4.5A, 9V/3A, 12V/2.5A, 20V/1.5A
2. Multi Protections: Over-current, Over-voltage, Over-temperature, Short-circuit Protection
3.Pocket Size for Travel with Gallium Nitride semiconductor technology
4.Foldable US plug with changable international plugs UK, EU, AU are all included.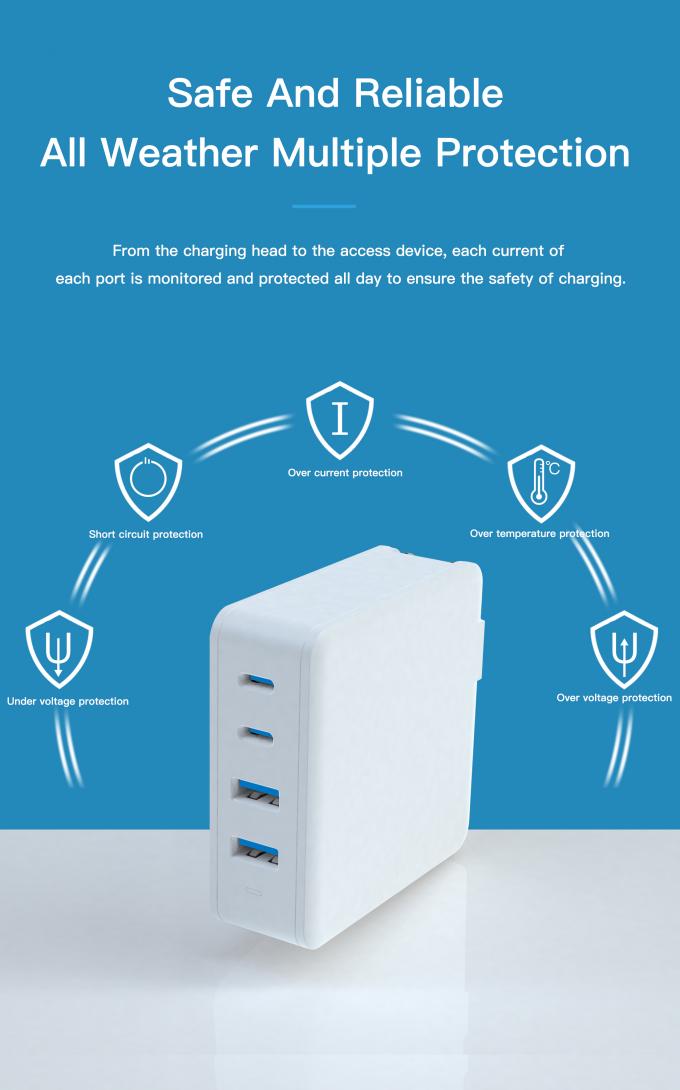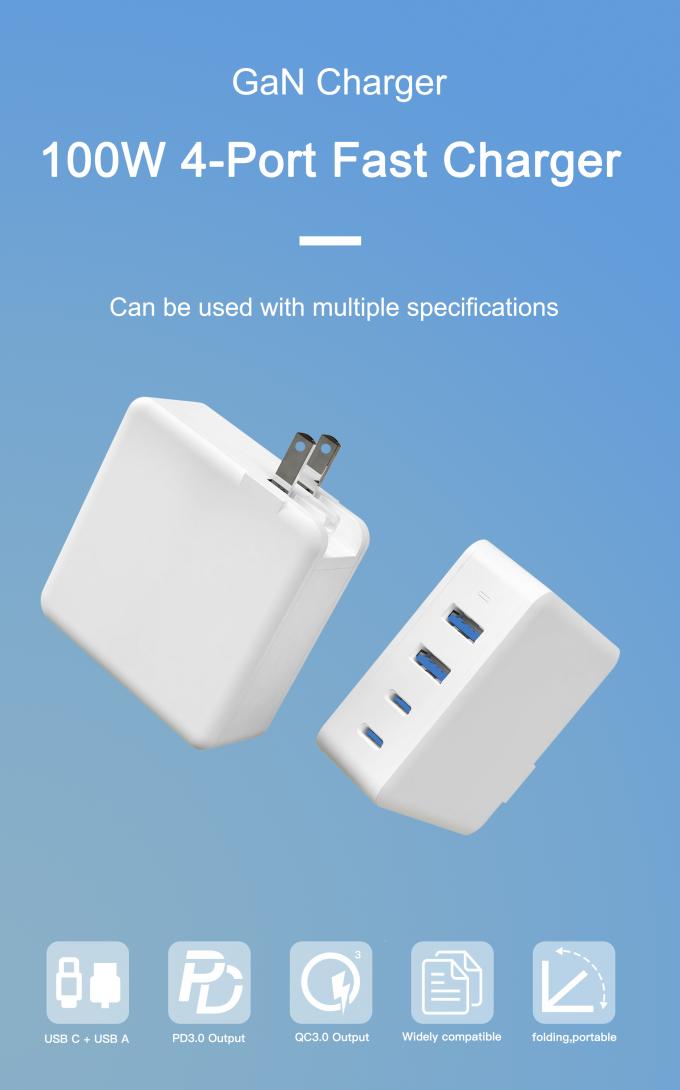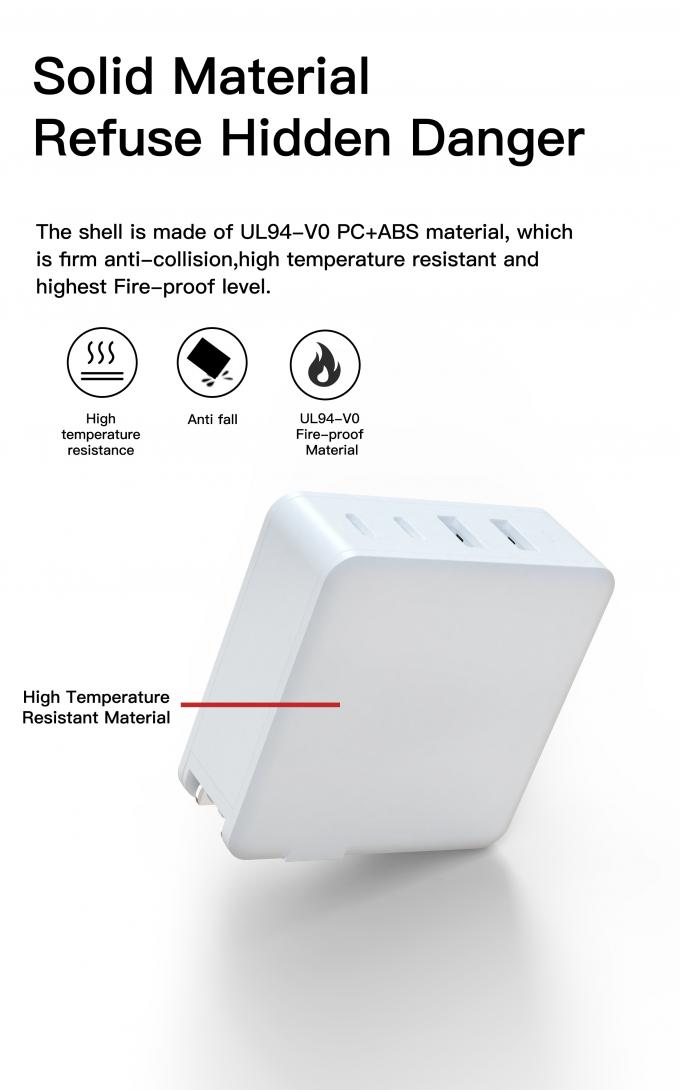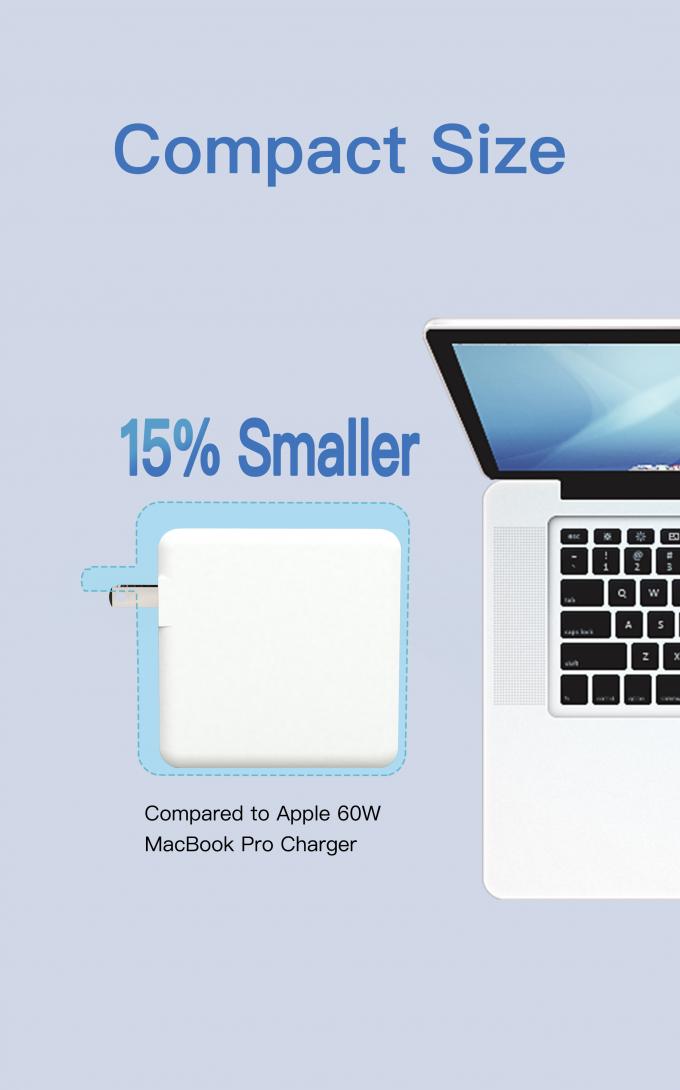 Why Choose us
1. 10 years OEM&ODM factory experiences in Power solutions.
2. Licensed MFI Apple factory
3. Specialized in Mobile Phone Accessories,including Apple MFi car Charger, iphone charger, Wireless
Chargers, wall charger, laptop power supply adapters and so on…
4. Strict QC team control quality
5. OEM/ODM service
6. Small MOQ support
7. Quick Delivery Time
8. Warranty 12 months after-service
9. Continul Technical innovation
If this fast wall charger can't meet your expectation, please just contact us via Email or Whatsapp.
Any other concerns, welcome to send your request to email.
Your feedback is the most important for us.
---
---